Not always it's the pricing of software that matters but there are many other features as well. For instance, the supported devices, ease of usage, tax collection on invoices and many more really matter. But sadly Recurly fails to deliver them all. The Recurly alternatives could help you with whatever problem you are facing with it.
---
---
As there are numerous payment and subscription software available these days it could be hard to find them by manual testing. So, why not rely on fair reviews and procedures testing results. We run testing over all the subscription and billing software and compiles a list of the best possible Recurly alternatives so far.
Quick Comparison Between Best Recurly Alternatives
Service
Pricing
Affiliate Network
Transaction Fee
Revenue Limit
Pabbly Subscription Billing
$19/m
✔
No
No
FastSpring
Contact Sales
✔
Not Specified
Yes
Payolee
$25/m
✖
Yes
Yes
2Checkout
3.5% + $0.35/sale
✔
Yes
No
Chargebee
$299/m
✖
Yes
Yes
---
"Pabbly Subscription Billing is the cheapest service that does not restrict you on using any feature even in the lowest plan."
This service had beaten Recurly over multiple features. The very first is on the pricing Recurly prices around $299 a month + 1.25% of revenue + 10 cents on every transaction that you made whereas Pabbly has simple pricing of $19 a month with zero transaction fee and no hidden charges.
The second feature where Pabbly beats Recurly is the currencies supported Recurly supports 21 currencies whereas Pabbly supports 25 currencies.
There are other features as well, Recurly only supports the web system but Pabbly is compatible for almost every system. If we talk about the ease of use here to Recurly was reviewed highly complex whereas Pabbly has a clean and clear dashboard and has a high ease of usability.
---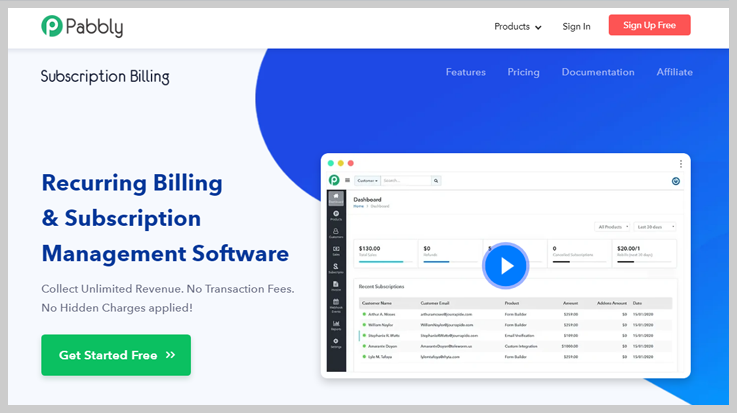 ---
Features
Affiliate Module – Pabbly Subscription billing offers an affiliate module so that your affiliates can help you promote your products. Most importantly, you can manage it in the subscription and billing dashboard side by side.
Client Portal – This an again unique feature and using this feature your customers can see their subscription and manage them easily.
Tax Management – It provides an excellent tax management system. With this, you can effortlessly add separate tax rules on the basis of your business type, country, state/province etc.
No Per-transaction Fee – Almost every other payment service is demanding the per-transaction fee. However, Pabbly Subscription Billing doesn't charge it.
Unlimited Revenue Generation – Again this is another limited features that every other service cost you for but Pabbly has no limit over the amount of revenue generated by your company.
Unlimited Customers + Plans + Products – Pabbly Subscription Billing is offering to add unlimited customers, limitless plans as well as products.
Pricing
Pabbly Subscription Billing is offering four pricing plans with all features & a limit over the number of customers. Moreover, it is offering monthly as well as an annual plan with 50% discount.
Starter – This plan allows up to 50 customers & costs around $19 a month.
Rookie – The rookie plan offers pricing of $37 a month for 100 customers.
Pro – You can it for 150 customers & the price will be $57 every month.
Advanced – A particular range is set for customers as well as pricing with this plan. It will cost $79 a month for 250 customers & can cost up to $3K for 50K customers.
---
2. FastSpring – Ecommerce Recurly Alternative
FastSpring is also a good choice for eCommerce platforms. It allows you to sell both software as well as digital products. Furthermore, it allows you to manage various taxes and at the same time maintain the compliance.
---
---
Features
Payments – FastSpring offers 20+ currencies and 15+ languages to optimize the shopping experience. It also allows using multiple payment methods like credit/debit cards, PayPal, Amazon Pay, GiroPay etc.
Global Tax Collection and Remittance – It automatically applies taxes based on your customer's location and streamlines the flow.
Integrations – It provides integration opportunities for adding affiliate network, analytics, WordPress, email marketing etc.
Pricing Plan
You will need to request a quotation from the FastSpring sales team for getting a pricing estimate.
---
3. Payolee – Recurly Alternative with No Coding

Payolee is amongst affordable Recurly alternatives. It charges on the basis of the sales volume that services generate using it. It lets you accept both single time and recurring payments. Further, it has numerous payment solutions such as Squarespace payments, Weebly recurring payments, WordPress payments and many more.
---
---
Features
Easy to Set-up – Payolee will take only 5 minutes to set up on any website. And you won't need any coding skill on the set-up.
One-time & Recurring Payment – You can accept both one-time and recurring payments using this service. Moreover, it also allows for creating custom buttons.
Automate – Payolee allows you to easily automate the recurring payments in few clicks with safe and secure SSL encryption.
Pricing Plan
Payolee offers multiple monthly pricing plans based on the sales volume. In addition, Stripe transaction fee still applies for all pricing estimates.
Lowest Plan – The lowest plan costs around $8/month for $0-$115 sales volume.
Highest Plan – Highest plan for Payolee costs $600 a month for $15K-$17K sales volume.
For much higher plans and sales volume you'll need to call the sales of Payolee.
---
4. 2Checkout – Simplifies Alternative to Recurly
2Checkout is a global payment and digital commerce solution. It has many advanced functionalities for payment and billing such as global tax & financial services, risk management & compliance, merchant & shopper services, partner sales etc.
---
---
Features
Digital Commerce Lifecycle – The digital commerce lifecycle of this service take care of all from acquisition, onboarding, activation, upgrading, cross-selling to renewal.
Reporting and Analytics – It provides multiple report areas for getting an insight into your campaign.
Add-ons – 2Checkout offers five more addon product of itself to enhance commerce.
Pricing Plan
2Checkout has divided the pricing into three plans based on the sales, subscription and monetization. This is another service that costs based on the sales volume that you generate.
2Sell – This plan includes normal selling of product over the globe. The pricing is like 3.5% + $0.35 per successful sale.
2Subscribe – For subscriptions, it prices 4.5% + $0.45 per successful sale. This plan includes all the 2Sell plan benefits.
2Monetize – This plan includes all the 2Subscribe plan benefits and adds up selling digital goods to it. Moreover, it costs 6.0% + $0.60 per successful sale.
---
5. Chargebee – Recurly Alternative for Fast-growth B2B SaaS
Chargebee can also be a good alternative to Recurly as there is nothing that Recurly offers and Chargebee not. Apart from the similarities, Chargebee has an additional taxation feature which Recurly doesn't offer. Moreover, Recurly supports only web and Chargebee supports almost all platforms.
---
---
Features
Dunning Management – Chargebee offers payment automation. It offers the dunning management feature to automatically reply to failed payments. It tries 3 times through emails for a failed payment.
Invoices – It allows you to create custom invoices by adding a brand logo, banner etc. Also, the invoices by Chargebee have tax inclusiveness & are multilingual.
Analytics – Chargebee showcases excellently designed auto-generated reports. Additionally, you'll find many elements, colours, and clarity in the analytics reports to understand reports quickly.
Pricing Plan
Chargebee offers both monthly as well as yearly pricing plans. It has three cost estimates based on the features it enables with each plan.
Rise – This plan costs around $299 a month for 10 users. It has a revenue limit of $50K and 0.6% of overage revenue.
Scale – The scale plan costs $599 a month for 25 users. Further, the revenue limit is $75K and 0.9% of overage revenue.
Enterprise – For many unlimited features you need to contact the sales team for the pricing details.
---
In Conclusion:
These were the best software available as the best Recurly alternatives. You may have got a brief about these services till now. I personally suggest you choose the first product as it satisfies the sales need in more than a few features.
You May Also Like To Read –