The conditional logic forms are widely used so as to increase the customer's interaction by providing them with a form where there is a flow in the form filling process. The form builder software allows using conditional logic in such a way that the next to next form fields open based on their previous selection. This also reduces clutter and sometimes also reduces the form size.
---
---
There are many form builder software available offering conditional logic functionality with the form. But, in some of these services, this could be very tough and messy sometimes. Also, there are a few services in which this functionality can be implemented excellently in few clicks.
Henceforth, here in this article, we have handpicked a few best services after testing and getting them reviewed. After a quick glance at the comparison table let's have a brief discussion on these form builder software providing conditional logic forms.
Quick Comparison Between Best Conditional Logic Forms
Service
Pricing
Payment
User
Webhooks
Pabbly Form Builder
$10/m
Limitless
Unlimited
✔
Formstack
$19/y
✔
1
✖
Ninja Forms
$49.50/y
✖
1
✖
Formidable Forms
$99.38/y
✖
1
✔
Leadformly
$37/m
✖
1
✔
---
"Pabbly Form Builder is the only form builder software that lets you access all the features in the price of a single form."
This is an all in one solution for all type of online and offline forms. It is the cheapest & the most feature-full service in the market. Along with the conditional logic, it is providing unlimited advanced features such as unlimited form submission, submission reports, payments, file uploads, storage, user access and much more.
Additionally, it allows form tracking along & Webhooks for improvising your form building experience. This is a GDPR compliant service and provides SSL encryption for payment security.
---
---
Features
Conditional Redirects – It is an advanced feature that you aren't gonna get in just any other service. It helps you to redirect a customer directly to any destination URL that you fill in based on the choice they make in your form.
Payments – It supports payments forms and has a template already available to use. There is no limit over the number or the amount of payment collection. Furthermore, you can add as many accounts as you want.
Email Autoresponder – This feature lets you automate the email replies for your forms. Both the admin as well as end-user can get benefitted by receiving emails related to form submissions, payment responses etc.
Partial Form Submission – Sometimes there is a need to create long and lengthy forms. And your user may not be possible to fill it in a single go. So, there is an option within the forms to save the partially filled forms and resume to complete it in next try.
Pricing
Pabbly Form Builder software offers pricing plans for both monthly & yearly plans.
The yearly plan costs around $10 a month and you can use all the features for a single form.
Pabbly Form Builder's monthly plan costs around $15 a month. Besides, this plan is also for a single form and you can access all the functionalities of the service like the multi-page forms, payment forms, Webhooks etc.
---
2. Formstack – Form Builder with Conditional Logics
Formstack is also a user-friendly form creator service and your team can also use it concurrently. Moreover, you can easily integrate other services with Formstack for improved working such as automation, payment collection etc.
---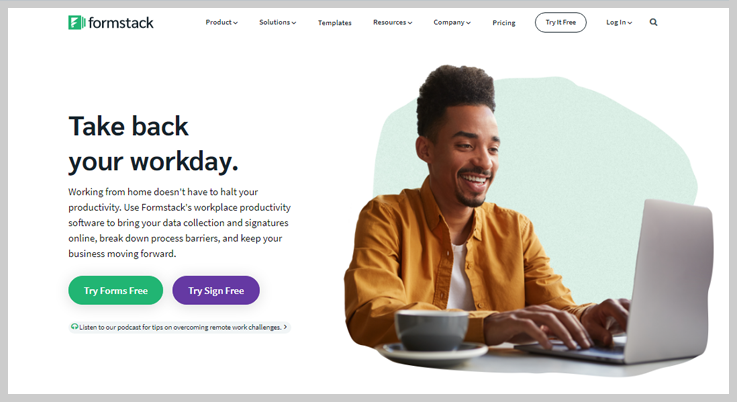 ---
Features
Drag & Drop Form Builder – An easy to use interface along with many form elements like text boxes, text fields, buttons, radio buttons etc. are provided of better user experience. Also, it allows you to set validations for your form fields.
Work In Team – You can easily collaborate with your team using this service. For different users, you can set approvals as well as user permissions. Also, all the team members will be able to share their forms from a single form builder account.
Analytics – It renders insights about the views, conversion & abandoned forms so as to optimize your marketing strategy.
Import/Export – FormStack also enables you to importer export data in CSV, Word, PDF, & excel file formats.
Pricing Plan:
Formstack is also priced both monthly and yearly. Basically the difference in the pricing is based on the number of user and forms.
Bronze – In this plan, a single user can make 5 forms. This plan costs $19 a month for the basic features.
Silver – The silver plan is for additional integrations as well as coherent data collection. It costs around $59 a month for a single user & 20 forms.
Gold – In $99 a month five users can make 20 forms within this plan. This plan adds up customization options in addition.
Platinum – The platinum plan costs $249 for 10 users & 1K forms.
Enterprise – You need to contact the Formstack sales team to get the pricing of this plan. It offers robust data management & more security for larger organizations.
---
3. NinjaForms – WordPress Form Builder Software

Ninja Forms is an easy-to-use WordPress form builder software. It has both beginner-friendly as well as advanced functionalities such as multi-site support, SMS & slack notifications. Additionally, it also unlocks integrations at different pricing levels.
---
---
Features
Beginner Friendly Interface – Ninja Forms gives a beginner-friendly interface. Using it you can design beautiful & complex forms easily without writing a single line of code.
WordPress Forms – It uses the row & column layout to create responsive custom & multipage forms. Also, you can apply conditional logic onto these forms.
Advanced Form Features – Ninja Forms renders many advanced features for instance file uploading, send/export form submissions, and email sending options.
Payments & Donations – You can receive PayPal & credit card payments securely through the WordPress forms of this service.
Pricing
Ninja Forms proposes three pricing plans for various business levels.
Agency – This plan will cost $249.50 a year. You can use all the features plus the old & new addons of Ninja Forms in it. Also, it allows you to use the form over unlimited sites.
Professional – Professional plan costs around $99.50 a year. Moreover, you can use the forms on 20 sites. Also, you can make use of the client-user management system that it provides. Furthermore, it allows using payments, Zapier & Webhooks.
Personal – This plan costs $49.50 for a year. It allows single site usage for the forms & you can access the basic form builder functionalities.
---
4. Formidable Forms – Solution Focused Form Creator Service
Formidable is a powerful form creator service offering many excellent features for forms online forms. These features include conditional logic, cascading lookup fields, reports & much more.
---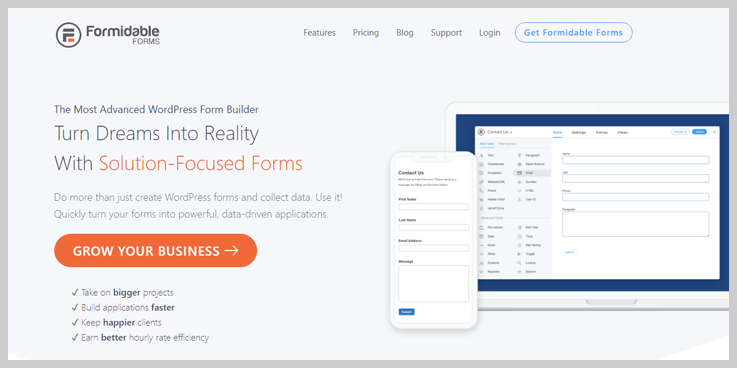 ---
Features
Display Form Data with Views – Using this feature you can shape your form data with tables without using PHP.
Reports, Graph & Charts – Formidable Forms display charts and graphs for keeping track of your form submission at one place.
Multi-Page Forms with Progress Bar – You can also create multipage forms also it displays a progress bar form showing the completeness of your forms.
Mobile-Friendly – It renders highly responsive forms that will look good even in small mobile screen sizes.
Pricing
Formidable Forms presents three, yearly pricings.
Elite – The elite plan costs around $399.53 a year. It covers all the feature of the other two plans. Three additional features are also added they are Integrations support, access to all form templates & using it for multiple sites.
Business – This plan costs $199.43 a year along with many advanced options. Such as PayPal payment gateway, quiz maker, Zapier etc.
Basic – The basic plan costs $99.38 a year for the basic form-functionalities. You can use Formidable Form service for a single site in this plan.
---
5. Leadformly – Online Form Builder Software
Leadformly is an online form maker software that helps you capture & convert more leads from your website. It is packed with many powerful features like icon library, expert review, Webhooks etc.
---
---
Features
Pre-designed Templates – Laeadformly offers you 50+ pre-designed form templates that are designed for different industry types.
Easy-to-use Interface – It renders a drag and drop form builder interface to make responsive forms. Also, you can easily duplicate the form fields & preview the forms for different device types.
Lead Specific Features – This service provides many lead specific features like notifications, lead routing & lead download.
Form Tracking  – You can track the forms as each form has a form tracking enabled to better understand your audience.
Pricing
Leadformly online form builder prices you on the basis of leads that you get within a single month.
The pricing ranges from $37 a month to $749 a month for 250 to 15K leads. For more than 15K  leads you will need to contact the sales of this service.
---
In Conclusion:
This was our catch on the free as well as paid form builder services providing conditional logic forms. Many of them are affordable & some of them are also providing free trials. You can try any service which fits you the best till now.
You May Also Like To Read –