There could be many reasons possible that you are here searching for Chargebee alternatives. Many reviews and testings suggested the problem in payments and invoices due to the unoptimized backend. Also, some are facing data reliability issues, slow refresh rates, Webhooks not working properly and much more.
---
---
When we start to look for the options available for subscription and billing services. There are humungous amount of services possible for this niche and to choose a single could be very tough. As there are many things to keep in mind and without testing, we don't really get a proper idea about working & manual testing could be exhausting.
For your ease, we've tested many subscription and billing software ourself and listed out some Chergbee alternates for you too. These alternates will definitely help you find a better choice. After having a quick look at the comparison table, lets read in a little brief about the specialities and features that you can found within these services.
Quick Comparison Between Best Chargebee Alternates
Service
Pricing
Affiliate Network
Per Transaction Fee
Revenue Limit
Pabbly Subscription Billing
$19/m
✔
0%
Unlimited
FastSpring
Contact Sales
✔
Not Specified
Yes
Payolee
$25/m
✖
2.9% + 30¢
Yes
PayWhril
$49/m
✖
2%
Yes
Zoho
$39/m
✖
0%
 No
---
"Pabbly Subscription Billing is the only service that doesn't cost you over every transaction and also has an affiliate module in the dashboard."
This service doesn't have a restriction over the revenue and has no hidden charges. With Pabbly Subscription Billing you can create unlimited products and plans for limitless customers.
You can accept easy one-time as well as recurring revenue with automated invoices. This service also allows you to create customized checkout pages with a custom domain and in many languages.
---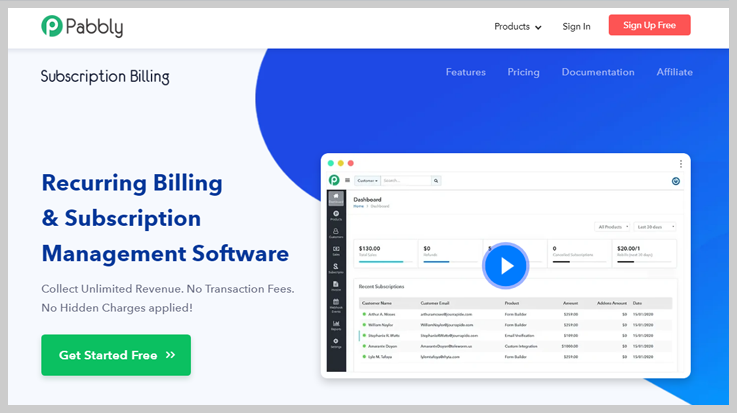 ---
Features
Coupons, Discounts & Trials – Pabbly Subscription Billing allows you to create unlimited coupons. Also, you can give flat or percentage discounts to your customers. Further, it also allows you to offer free trials to your users.
Advanced Payment Features – With gateways PayPal, Stripe & more gateways that are available in 200+ countries worldwide it do not any transaction fee. Furthermore, it also has an offline subscription cycle for customers that do not prefer automatic payment deductions.
Tax Management – It allows you to add different tax rules that are based on your business, country, state etc.
Plan Upgrade/Downgrade – This service provides easy management for plan upgrade and downgrades.
Customer Services – Along with the customer notifications for customer activities it also provides a client portal to manage the plans and subscriptions.
Recover Payments – It provides dunning/auto-retry and manual refund mechanism for easy recovery of payments.
Integration – You can try seamless integration with the API, Webhooks, and SaaS integration. Moreover, it also allows you to embed customized autofill checkout pages on your website.
Pricing
Pabbly Subscription Billing offers four cost estimates with all features & a limit over the number of customers. Besides that, it is allowing monthly as well as an annual plan with 50% discount.
Starter – This plan includes adding 50 customers & the cost is around $19 a month.
Rookie – The rookie plan has a pricing of $37 a month for around 100 customers.
Pro – You can opt it for 150 customers & the price will be $57 every month.
Advanced – For a range of 250 to 50K customers, this plan ranges in between $79 to $3K.
---
2. FastSpring – SaaS Ecommerce Service
FastSpring is a billing service that is designed for e-commerce platforms. It supports selling a varied type of products such as software, digital goods, SaaS-based services etc. Additionally, it supports 20+ currencies, 15+ languages and the popular payment gateways like debit and credit cards, PayPal, Amazon Pay, Wire Transfer, GiroPay etc.
---
---
Features
Failover Processing – FastSpring smartly handles the transaction fails by quickly routing the transaction to another acquiring bank for successful completion. This optimized routing gives a better shopping experience to your customers.
Global Tax Collection & Remittance – To streamlines the flow, automatic taxes are applied over transactions based on the customer's location.
Regulation Compliance – It maintains the PCI DSS & GDPR compliance with almost all major global regulations.
Pricing Plan
You can contact FastSpring sales to request a pricing quote.
---
3. Payolee – Affordable Chargebee Alternative

Payolee is another good alternative over Chargebee for subscriptions and billing. It can accept both one-time and recurring payments on your website for products/services that you sell. Further, it also provides customizable buttons for payment checkouts and donations.
---
---
Features
Easy to Set-up – Payolee has a very easy 5-minute set up and you can connect it with your website in just a few clicks.
Payment Solutions – It has multiple payment solutions such as Squarespace payments, WordPress payments, Weebly recurring payments & more.
Automate – This service provides safe & secure SSL encryption for the payment transaction. You will only need to set the payment cycle and then the system will take care of the rest from check to refund.
Pricing Plan
It is offering many monthly plans. These plans are based on the monthly sales volume that you generate. Besides this, a Stripe transaction fee applies to all the price estimates.
Lowest Plan – The lowest plan costs $8 a month for a sales volume between $0-$115.
Highest Plan –  Payolee is pricing $600 a month for the highest plan and it has a sales volume limit of $15K-$17K.
For more sales volume you must contact the Payolee sales for a higher plan.
---
4. PayWhirl – Flexible Subscription & Billing
You can PayWhirl embed a widget on your website with simply pasting the code or you can also make use of its API to use it as a page or something. It allows one-time and recurring subscriptions using the all major credit & debit cards. Also, it allows your customer to add a bank account & pay directly by electronic check.
---
---
Features
Customizable Emails & Invoices – It allows customizable emails and invoices for you and you can edit the text and HTML very easily. Also, it renders default templates for emails and invoicing.
Tracking Revenue – You can track the recurring revenue and easily look for the Monthly Recurring Revenue (MRR), Annualized Run Rate (ARR) and sales metrics via reports that PayWhirl provides.
Secure Gateway Connection – PayWhirl runs on SSL and each connection in or out of the app is secured with TLS 1.2 cryptographic protocol.
Pricing
PayWhirl offers three monthly pricing plans along with a free plan. These plans are divided on the basis of the transaction fees and the features that it provides.
Free – This a completely free plan but charges a 3% transaction fees.
Business Ultimate – In this plan, the transaction fee would be 0.5%. And this plan charges $249 a month.
Business Pro – For $49 a month this plan will charge an additional 2% transaction fee.
Business Plus – The plus plan costs around $149 a month with 1% transaction fees.
---
5. Zoho – Subscription and Billing Software
Zoho provides an end to end customer subscription billing life cycle. With using this service you can automate the recurring billing and can easily manage the subscriptions. Most importantly, you can send professional tax-compliant invoices and get paid easily.
---
---
Features
Payment Options – Zoho provides a flexible billing cycle and multiple currency standards. Also, it supports almost every payment gateway that you can name.
Reports – Zoho showcases reports for net cancellations, churn rate & churn retire. Moreover, there are many more additional indicators for subscriptions.
Coupons – You can create as many coupons as you want to using this service.
Pricing
Zoho subscription is offering three pricing plans that are billed annually.
Free – You can use the free plan for20 subscribers, but can only use the Stripe payment gateway.
Basic – This plan costs around $39 a month for 500 customers with 3 users access.
Standard – The standard plan costs $79 a month for 5K customers, 5 user and 10 automated workflows.
Professional – This plan is of $249 a month and  10 users can access it for  5K customers.
---
In Conclusion:
These were the top Chargebee alternatives both free & paid. As of now, you have read the best features and a little brief about the services. Moreover, you can also explore the services on their official websites.
You May Also Like To Read –