Maximum reviews suggest that many people are searching for Braintree alternative because of its too high cost. And that doesn't end here its also demanding a good amount over every transaction that you make.
---
---
Well, this could be the end of your search. As after spending too much of our time over manual testing for various payment gateways we came up with the best alternatives to Braintree. We found multiple affordable options in the subscription billing software and there are also those which are much like direct payment gateways like Braintree.
Many software under this listing are charging a little less over the billing cycles and for the per-transaction fees. And there are a few that are not even charging you for any transaction that you make. Most importantly, there some are the cheapest as well as reliable and secure at the same time.
Quick Comparison Between Best Braintree Alternatives
Service
Pricing
Affiliate Network
Transaction Fee
Revenue Limit
Pabbly Subscription Billing
$19/m
✔
0%
Unlimited
FastSpring
Contact Sales
✔
Not Specified
Yes
2Checkout
3.5% + $0.35/sale
✔
3.5%
No
BlueSnap
4.90% + $0.30
✖
4.90%
Yes
Stripe
Pay As You Go
✖
3.5%
No
---
"Pabbly Subscription Billing is the only service that has no limit over revenue and also doesn't cost for any transaction fee."
This is the cheapest subscription billing service which allows creating unlimited plans & products for limitless customers. It provides accepting easy one-time and recurring payments with no hidden charges.
Additionally, it has an affiliate module within the same dashboard where you can easily manage your affiliate. Most importantly, it provides a client portal where your customers can see details of there subscriptions as well as manage them.
---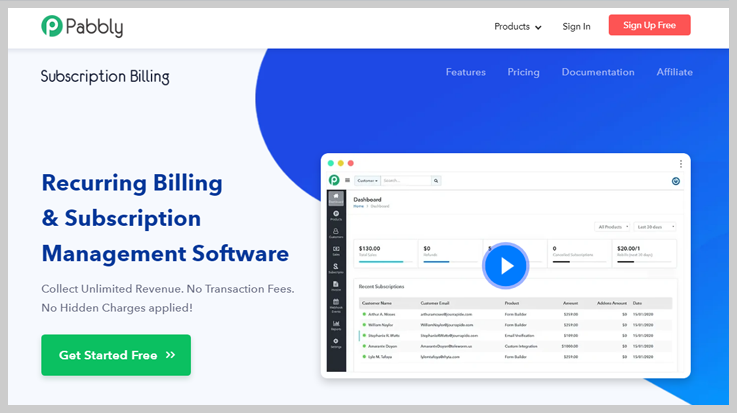 ---
Features
Tax Management – It provides an excellent tax management system. With this, you can effortlessly add separate tax rules on the basis of your business type, country, state/province etc.
No Per-transaction Fee – Almost every other payment service is demanding the per-transaction fee. However, Pabbly Subscription Billing doesn't charge you for this.
Unlimited Revenue Generation – Again this is another feature that every other service cost you for but Pabbly Subscription Billing has no limit over the amount of revenue generated by your company.
Security – It ensures secure payment collection through multiple payment gateways. Such as PayPal, Stripe, Authorize.Net & Razorpay.
Analytics – Pabbly Subscription Billing provides well-described sales analytics for your business.
Dunning Management – This feature helps in recovering the delayed or failed payments with the dunning management system.
Offline Subscription Cycle – You can create and manage offline subscriptions for the customer's that do not prefer automatic payment deductions.
Unlimited Customers + Plans + Products – Pabbly Subscription Billing is offering to add unlimited customers, limitless plans as well as products.
Pricing
Pabbly Subscription Billing offers four cost estimates with all features & a limit over the number of customers. Besides that, it is allowing monthly as well as an annual plan with 50% discount.
Starter – This plan includes adding 50 customers & the cost is around $19 a month.
Rookie – The rookie plan has a pricing of $37 a month for around 100 customers.
Pro – You can opt it for 150 customers & the price will be $57 every month.
Advanced – For a range of 250 to 50K customers, this plan ranges in between $79 to $3K.
---
2. FastSpring – Ecommerce Braintree Alternative
FastSpring is another reliable option that you can use for an eCommerce platform. It allows selling software, digital and SaaS products. Furthermore, it supports all popular payment methods, 20+ currencies & 15+ languages.
---
---
Features
Payments Methods – FastSpring allows using multiple payment methods such as credit/debit cards, PayPal, Amazon Pay, GiroPay etc.
Global Tax Collection and Remittance – This service automatically applies taxes based on your customer's location and streamlines the flow.
Regulation Compliance – It maintains compliance with almost all major global regulations that include the Payment Card Industry Data Security Standard (PCI DSS) & the General Data Protection Regulation (GDPR).
Pricing Plan
Contact FastSpring sales to request a pricing quotation.
---
3. 2Checkout – Simplifies Alternative to Braintree
2Checkout is a global payment & digital commerce solution. Apart from this, it is providing many advanced features for instance global tax & financial services, risk management & compliance, reporting & analysis, merchant & shopper services, partner sales etc.
---
---
Features
Global Tax Management – 2Checkouts takes care of your sales tax, VAT management, and remittance.
2Checkout Fraud Detection – This service uses an anti-fraud algorithm based on the fraud detection mechanism and manual review process to identify fraudulent activity & keep fraud from impacting your operations.
Reporting and Analytics – It provides multiple report areas for getting an insight into your sales operations.
Add-ons – 2Checkout advises five more addon product of itself to enhance your business capabilities.
Pricing Plan
2Checkout has three pricing plans based on the sales, subscription & monetization. This service also costs on the basis of sales volume that you generate.
2Sell – This particular plan includes global selling of product. The pricing is 3.5% + $0.35 per successful sale.
2Subscribe – For subscription-based payments, it prices around 4.5% + $0.45 per successful sale. Additionally, this plan includes all the 2Sell plan benefits.
2Monetize – This plan includes all the 2Subscribe plan benefits. Further, it adds up selling digital goods and costs 6.0% + $0.60 per successful sale.
---
4. BlueSnap – All-in-one Payment Gateway
BlueSnap is a good Braintree alternative that is demanding less transaction fee as compared. You can use it for online and mobile checkouts, subscriptions, invoices, virtual terminal, marketplace and point-of-sale.
---
---
Features
Single Account – BlueSnap allows connecting a single local bank account. Additionally, it includes a merchant account to process payments around the world.
Fraud Prevention – It provides remarkable fraud prevention mechanism & mitigates costly chargebacks. Also, it renders an alert service and PSD2 compliance.
Reconciliation & Reporting – This service renders rich reporting and payment analytics via a dashboard, mobile app/API. Further, it facilitates simplified global reconciliation.
Easy Integration – It provides RESTFul API & SDKs for 100+ 3rd party integrations. You can integrate into popular shopping carts, CRM, ERP systems and much more.
Pricing
BlueSnap provides two cost estimates.
Global Standard Pricing – It offers global standard pricing for Visa, Mastercard, Discover, Diners, JCB & American Express i.e, 4.90% + $0.30. Moreover, there are many additional benefits attached like no setup, monthly, or hidden fees, pay as you go, real-time fee reporting etc.
Custom Pricing – For businesses with high sales volume & charitable organizations you can ask for a custom plan. In this plan, you can connect multiple banks with a single account and get dedicated account management.
---
5. Stripe – Payment Service Provider
Stripe could be a nice payment gateway alternative for running an internet business. Also, it has a fast and easy setup that you can integrate with any business you need. Moreover, it renders real-time payment reports.
---
---
Features
Currency Conversions – Stripe allows currency conversion in 135+ currencies. In the same vein, this will help in improving sales & help customers to avoid conversion costs.
Disputes – Disputed payments normally acquire a fee. But. if the customer's bank resolves a dispute in your favour, the fee is fully refunded.
Accounting integrations – Stripe allows integration with the accounting services so as to further manipulate the payment data.
Pricing
Stripe offers two pricing plans based on the usage of the service.
Pay As You Go – It offers different rates over domestic as well as international payments. For domestic its charging 2-3% for card issues inside and outside the country. And for International, it is pricing 4.3% for card issues anywhere.
Enterprise – If you want to manage your account, want a discount over the volume, want migration assistance or dedicated support then do contact the sales team of the service.
---
In Conclusion:
This was our catch on the Braintree alternatives. Additionally, you can also use multiple payment gateways while using a subscription and billing service. As many of them are affordable and in short, add up more value by providing multiple functionalities. I hope, till now you have reached some conclusion for your search. Good luck! and choose what suits you the best.
You May Also Like To Read –