Are you searching for the best SaaS billing software?
Your search may end here, as we have come up with the best subscription & billing software in this article.
Billing may require one-time or recurring payments and with subscription billing, you can handle recurring payments that occur monthly, yearly or in some cycles. Moreover, there are services that also allow you to use multiple payment methods for flexibility.
---
---
Now, here a question arises that as there are many options available so how to decide which one to choose?
The answer is again right here in this post.
In this article, we've handpicked the best SaaS billing & subscription software. These software are manually tested and fair reviews are collected from the service users. Have a quick look at the comparison table below to sneak peek what's there to come next and then start reading about the service in a little brief.
Quick Comparison Between Best SaaS Billing Software
Service
Pricing
Affiliate Module
Transaction Fee
Revenue Limit
Pabbly Subscription Billing
$19/m
✔
0%
Unlimited
Payolee
$25/m
✖
2.9% + 30¢
Yes
2Checkout
Contact Sales
✔
3.5% + $0.35
Yes
Payhip
$29/m
✔
2%
No
Fusebill
$295/m
✖
2.85% + $0.30
Yes
---
"Pabbly Subscription Billing is the only service that doesn't cost for any per-transaction fee."
This is the best SaaS billing software for both one-time as well as recurring payments. You can create limitless products and plans for unlimited customers. Also, there is no limit on the revenue collection.
Pabbly Subscription Billing provides an affiliate management system within the same dashboard. Moreover, based on your country or province you can also add separate tax rules.
---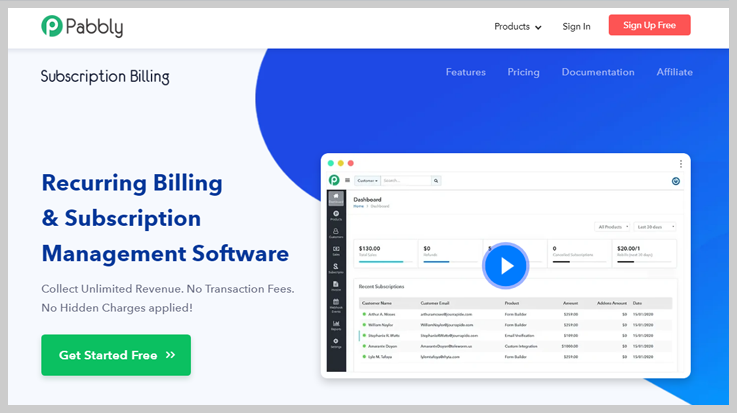 ---
Features
Multiple Plan in a Single Checkout – You can use this feature to give your customer an option to select multiple products from the list.
Custom Domain – For all your customers facing a page, you can choose to replace the Pabbly domain with your custom one.
Unlimited – There are many things which are unlimited in Pabbly Subscription Billing such as creating products, plans, checkout pages, coupons, discounts, trials, invoices, notifications and many more.
Integrations – This service provides many integrations to enhance working capabilities. You can make use of the Webhooks for each and every event triggered like purchase, abandoned, cancelled etc. Additionally, you can also make use of the API keys to integrate it with any other service and use the data.
Payment Gateways – It makes use of the best payments that are available in over 200+ countries, for instance, PayPal, Stripe, Authorize.Net etc.
Offline Subscription Cycle – For those customers who don't want to auto deduct the amount for their subscriptions it has a mechanism called offline subscription cycle.
Client Portal – Pabbly Subscription billing allows you to offer a client portal to your customers. Here they can check and manage their subscriptions.
Pricing
It renders four monthly and yearly plans. Each plan includes all the features and the price division is basically over the number of customers that are allowed to handle with an account.
Starter – For 50 customers you'll need to pay $19 on a monthly basis.
Rookie – In the rookie plan, it allows adding 100 customers and the cost estimate is $37 billed monthly.
Pro – Pro plan allows adding 150 customers. The price will be $57 monthly.
Advanced – This plan has a range of customer from 250 to 50K & the price ranges in between $79 to $3K.
---
2. Payolee – Minimal SaaS Billing Software

Payolee helps you accept single-time/recurring payments and donations on your website. It supports accepting payments using multiple payment gateways. These gateways include Squarespace, Wix, Weebly payments etc.
---
---
Features
5 Minute Setup – It is very simple & easy to set up Payolee on any website without any coding skills.
Donate Button – This service also allows using a customizable donate button that is secure and easy to use.
Automate – Payolee allows you to select a frequency for recurring payments. After that, the payment will be easily carried out in an automated manner.
Pricing Plan
This SaaS billing service offers many monthly plans. The pricing is basically based on the sales volume and an additional Stripe transaction fee applies over all the plans.
Lowest Plan – It costs $8/month for $0 to $115 sales volume.
Highest Plan – The highest plan costs around $600 for $15K-$17K sales volume.
For much higher plans you can contact the sales of Payolee.
---
3. 2Checkout – Simplified SaaS Billing Software
2Checkout is a payment platform for selling digital goods over the globe. It also allows subscription billing. This service supports global tax & financial services. Most importantly, it has a risk management system for fraud detection and also takes care about the international compliance.
---
---
Features
Global Tax Management – This service provides a proper mechanism for sales tax, VAT management, & remittance.
Fraud Detection – 2Checkouts service uses an anti-fraud algorithm for fraud detection and keeps fraud away from impacting your payment operations.
Reporting & Analytics – You can get an insight into the sales operation that you perform using 2Checkouts within the report areas.
Pricing Plan
2Checkout has three pricing plans. These plans are bifurcated on the basis of normal sales, subscriptions & monetization. 2Checkouts also costs on the basis of sales volume that you generate.
2Sell – You can sell the product one-time using this plan. The pricing would be  3.5% + $0.35 per successful sale.
2Subscribe – For recurring or subscription-based payments you can use this plan. This plan prices 4.5% + $0.45 per successful sale. In addition to this, this plan includes all the 2Sell plan benefits.
2Monetize – Along with all the 2Subscribe plan benefits, this plan adds up selling digital goods. This plan costs 6.0% + $0.60 per successful sale.
---
4. Payhip – Service with Straight Forward Pricing
If you want to sell digitalized files than you can opt Payhip. As it is a SaaS billing software dedicated designed to sell softcopies. Moreover, you can sell downloadable files as well as memberships using this particular service.
---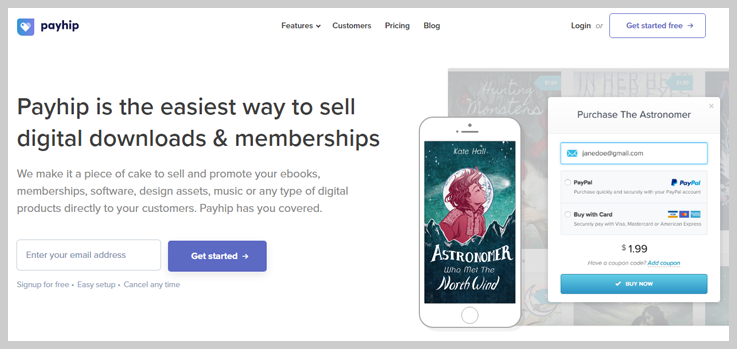 ---
Features
Beautiful & Responsive Checkout – Payhip allows you to design beautiful responsive checkout pages that will look good over all the screens.
Instant Download Feature – After a successful purchase an email will be automatically sent via which your customer can instantly download the purchased file.
Fully-automatic Workflow – The system for digitalized content is completely automated. You only need to upload a file that you want to sell online it may be an ebook, a software, or some video and the system will take care of the rest. Once the system accepts successful payments it will automatically send a thankyou main and the email containing the file.
Social Discounts – This feature is so popular nowadays for digital goods. Using this feature, you can offer discounts to the customers who tweet & like your posts.
Pricing
Payhip is offering three pricing plans that include all the features that it offers. Although all plans include a transaction fee within. In all of these plans, you can add unlimited products and can accept any amount of revenue.
Free Forever – This plan will charge a 5% transaction fee over all the payments.
Plus – The plus plan prices around $29 a month & has a 2% transaction fee.
Pro – Pro plan will cost $99 a month with zero transaction fee.
---
5. Fusebill – Subscription & Billing Software
Fusebill is another good subscription management & recurring billing software. This service lets you create products and also allows you to automate the billing process. Further. it provides support to multiple payment gateways and integrations.
---
---
Features
Payment Management – It allows multiple payment methods like credit cards, ACH/EFT, PayPal, check and cash. Furthermore, it is multi-currency capable for growing your revenue globally.
Supported Payment Gateways – Fusebill allows payments through many payment gateways. It includes Stripe, PayPal, Authorize.Net, Braintree, Cyber Source, PayPal Payments Pro, VersaPay, QuickBooks and many more.
Analytics and Insights – This service renders customer and subscription insights dashboard with easy MRR tracking. Also, it provides real-time revenue snapshots and finance calendar.
Pricing
Fusebill has divided its prices based on different business levels & yearly revenue. It has three monthly pricing plans.
Startup – With a flat $295/m pricing this plan is for those who are generating annual revenue <1M.
Rapid-Growth – Rapid-growth plan has flat pricing of $895/m for $1M – $10M annual revenue.
Enterprise – For custom onboarding and >10M annual revenue you'll need to ask for a pricing quotation from the Fusebill sales.
---
In Conclusion:
So this was all about the best SaaS billing software so far. There are services providing free services and there are services for big and small businesses. You can choose any one of them based on your business needs.
You May Also Like To Read –